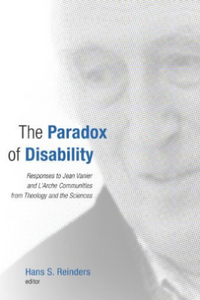 THE PARADOX OF DISABILITY by Hans S. Reinders 

In response to Jean Vanier and L'Arche Communities from Theology and the Sciences.
The village of Trosly-Breuil in northern France is home to one of the world's thirty-four L'Arche communities, where people with and without intellectual disabilities live and work together. In 2007 the impressive group of social scientists and theologians who contribute to this book gathered there to respond to a question posed by the worldwide community's cofounder, Jean Vanier: "What have people with disabilities taught me?"