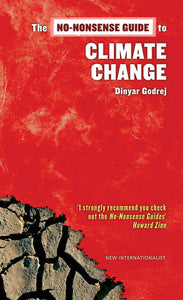 THE NO-NONSENSE GUIDE to CLIMATE CHANGE by Dinyar Godrej

Hurricanes, glacier melt, unstable seasons - instances of extreme weather are more and more frequent. And there is growing awareness of the disproportionate effect climate change will have on poorer countries in the South.
Each new scientific report on climate change makes increasingly alarming predictions about global warming. The threat is impossible to ignore. Or is it? Most governments have responded slowly, if at all, betraying an attitude of denial and a reluctance to instigate change.
Fully revised and updated, this No-Nonsense Guide looks at the latest findings, explores the options and explains why carbon emissions trading and nuclear power are not the answer. It calls for measures to clean up our act, cut energy use, and improve energy efficiency.