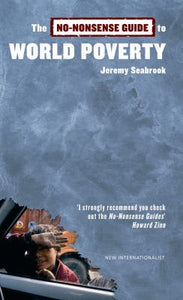 THE NO-NONSENSE GUIDE to WORLD POVERTY by Jeremy Seabrook

Why are there so many poor people in a world that's richer than ever before? Something must be wrong with conventional thinking about wealth and poverty. In this No-Nonsense Guide Jeremy Seabrook summarizes his celebrated work on he meaning of poverty, drawing on the experience of poor people all over the world.
He concludes that the opposite of poverty is not wealth but 'sufficiency'. The relatively poor majority of the world's people do not aim to be rich but to be safe. Giving voice to those whose views are rarely sought, this guide shows that the answer lie not in economic growth and wealth creation but in a radical rethink of the way we live.