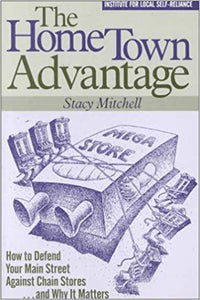 The Home Town Advantage by Stacy Mitchell
How to defend your main street against chain stores and why it matters!
Across the U.S., cities and towns are grappling with the proliferation of chain stores and the loss of locally owned businesses. The trends are dismal.11,000 local pharmacies have closed their doors since 1990. Independent bookstores now account for less than 20% of book sales. Neighborhood hardware stores are disappearing: two chains have captured more than 25% of the market.
But trends are not destiny. Concentration occurs only when we allow it to occur and currently public policy not only allows absentee ownership, it actively encourages it. It is time to change the rules.
From local zoning ordinances to federal antitrust policy, The Hometown Advantage provides a comprehensive guide to reviving the homegrown economy.