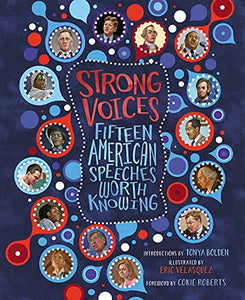 Introductions by acclaimed writer Tonya Bolden provide historical context and critical insights to the meaning and impact of every speech. Illustrations by award-winning artist Eric Velasquez illuminate what it was really like at each moment in history. This collection includes the following:
Patrick Henry, "Give Me Liberty or Give Me Death"

George Washington, Farewell Address

Red Jacket, "We Never Quarrel about Religion"

Frederick Douglass, "What to the Slave Is the Fourth of July?"

Sojourner Truth, "I Am a Woman's Rights"

Abraham Lincoln, Gettysburg Address

Theodore Roosevelt, "Citizenship in a Republic"

Franklin Delano Roosevelt, "The Only Thing We Have to Fear Is Fear Itself"

Lou Gehrig, "Farewell to Baseball"

Langston Hughes, "On the Blacklist All Our Lives"

John Fitzgerald Kennedy, "We Choose to Go to the Moon"

Martin Luther King, Jr., "I Have a Dream"

Fannie Lou Hamer, "I Question America"

Cesar Chavez, Address to the Commonwealth Club of California, 1984

Hillary Rodham Clinton, "Women's Rights Are Human Rights"
Strong Voices includes a foreword by #1 New York Times bestselling author and celebrated journalist Cokie Roberts, as well as a timeline in the back of the book, along with letters to the reader from Tonya Bolden and Eric Velasquez.
Strong Voices is a tremendous introduction to the extraordinary words spoken in history.