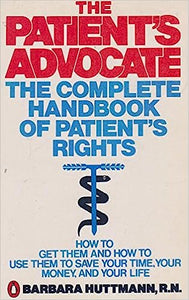 The Patient's Advocate answers a vital need. The author, a registered nurse, has witnessed the physical, mental, and financial stress encountered by patients entering the unfamiliar world of the hospital. Here she offers essential information you need to be a "professional" patient- one who can make informed decisions in a confusing and often hostile environment. In a concise, highly readable style highlighted by anecdotes from her professional experience, the auto explains:
• the importance of having an advocate- a close friend or family member who can ask intelligent questions, lend emotional support, and safeguard your rights when you are too ill to do so yourself;
• the day-to-day routine of a hospital- what to expect, and when, from admissions to discharge day;
• how to make sure you will have a good room, proper diet and medication, and attention and respect from the staff;
• how to guard against mistaken diagnoses, redundant tests, excessive costs, and unnecessary surgery;
• the language of charts, prescriptions, and medical jargon;
• your legal rights and responsibilities;
• how to make your way through the welter of paperwork that follows a hospital stay.
A definitive guide to playing and surviving "the hospitalization game," The Patient's Advocate is a source of information and reassuring advice when you or someone close to you needs it most.