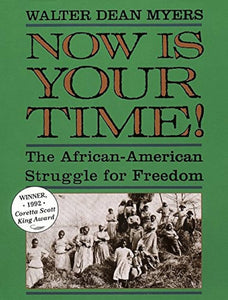 A Coretta Scott King Award winner that is more timely than ever—excellent narrative nonfiction that's "history at its best."* Like Howard Zinn's People's History of the United States, Now Is Your Time! explores American history through the stories of the people whose experiences have shaped and continue to shape the America in which we live.
History has made me an African American. It is an Africa that I have come from, and an America that I have helped to create.
Since they were first brought as captives to Virginia, the people who would become African Americans have struggled for freedom. Thousands fought for the rights of all Americans during the Revolutionary War, and for their own rights during the Civil War. On the battlefield, through education, and through their creative genius, they have worked toward one goal: that the rights of life, liberty, and the pursuit of happiness be denied no one.

Fired by the legacy of these men and women, the struggle continues today.
"Portrays the quests of individual Africans against the background of broader historical movements. Instead of a comprehensive, strict chronology, Myers offers, through freed slave Ibrahima, investigative reporter Ida Wells, artist Meta Warrick Fuller, inventor George Latimore, artist Dred Scott, the 54th Massachusetts Regiment, and others, history at its best—along with deeper understanding of past and contemporary events. Readers will grasp reasons behind incidents ranging from bewildering Supreme Court decisions to the historical need for the black extended family. Intriguing and rousing." (Publishers Weekly starred review*).
Walter Dean Myers was a New York Times bestselling author, Printz Award winner, five-time winner of the Coretta Scott King Award, two-time Newbery Honor recipient, and the National Ambassador for Young People's Literature. Maria Russo, writing in the New York Times, called Myers "one of the greats and a champion of diversity in children's books well before the cause got mainstream attention."