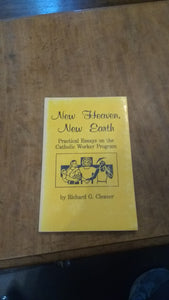 "Responding to a very real need for education about the Catholic Worker, Richard took on the task of revising the original "Catholic Worker Positions" that were first published in the Catholic Worker paper in the 1950s. In 1981-82 his essays were published as a five part series called "Catholic Worker Positions Explained" which appeared in the Des Moines (Iowa) Catholic Worker newsletter via pacis. Beginning with a reissuing of the original "Positions" written by Robert Ludlow, Richard updated and expanded on the "Positions" as they relate to economics, politics, psychology, social relations, and our relation to nature.
  Ten years latern, Richard has revisited these essays, updating and adding tot he text in order to bring them in line with events of the intervening years. This latest version has been titles New Heaven, New Earth.
  As with the original series, Richard breaks new ground and takes on some heretofore "taboo" issues within the C.W. movement.... He reminds us that it is from the poor, the oppressed and the persecuted that Christians are to get their worldly bearings. Perhaps the greatest service rendered by Richard in his writings is a clearly reasoned and strong endorsement of the Catholic Worker's call for unconditional love, personalism, and strict adherence to nonviolence."
- Fr. Frank Cordaro, Catholic Worker activist, radical priest