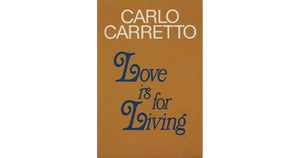 LOVE IS FOR LIVING BY CARLO CARRETTO
Carretto's four-stage meditational journey is both deceptively simple and utterly profound. Many years in the desert have influenced Carretto's spirituality, yet he is no ascetic hermit. He is practical, well-intentioned but unmistakably human in his admitted faults and failings. Perfect love eludes him as it does most of us. But he keeps trying, and encourages us to do likewise. Comforting as well as challenging, Carretto is a sane voice amid shamans, gurus and other esoteric meditators.
Book Breakdown:
Part I: Ch.1 Immersed in the Light. Ch. 2 Faith. Ch. 3 The Call to Faith. Ch. 4 Hope. Ch. 5 Walking in Hope. Ch. 6 Love. Ch. 7 The Path of Love. Part II: Ch. 8 It is not good that the man should be alone. Ch. 9 Life Together. Ch. 10 This is weakness, not Love! Ch. 11 Man and Work. Ch. 12 With sweat on your brow shall you eat your bread. Ch. 13 Love every creature. Ch. 14 You shall not make yourself a carved image. Part III: Ch. 15 Praise of God. Ch. 16 Petition. Ch. 17 Trust as Prayer. Ch. 18 Prayer and Life. Ch. 19 Prayer as Sacrifice. Ch. 20 The Revelation of God. Ch. 21 God's Love in Us. Part IV: Ch. 22 The New Commandment. Ch. 23 The Fire of Purgatory. Ch. 24 Come, Lord! Carlo Carretto was a leader in Italian "Catholic Action" and served as National President of Catholic Youth from 1946 to 1952. At the age of 44 he heard the call of God to go into the desert. There he joined the Little Brothers of Jesus of Charles de Foucauld.