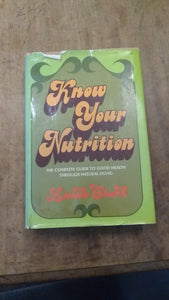 Well-fed... and undernourished - that is the simple and shocking truth about most Americans today. Over-refined and processed foods lack the vital nutrients that gave robust health to our ancestors, and almost no one escapes the toll of nutritive deficiency. ranging from an "under par" feeling to serious illness and death.
  Once we could eat pretty much what we fancied, and thrive on it; but now healthful nutrition requires special knowledge and care. Should we take vitamins and food supplements? What are they and how do they work? Can they harm you? Are there "miracle" foods that can correct serious physical conditions?

  Linda Clark, one of the most respected and widely read nutrition reporters, has brought together the full story of human nutrition in this new book, including the latest discoveries about vitamins, food supplements and diet. Know Your Nutrition is a handbook for anyone concerned with his own or his family's well-being.