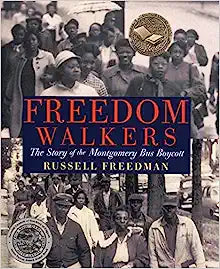 A riveting account of the civil rights boycott that changed history by the foremost author of history for young people.
Now a classic, Freedman's book tells the dramatic stories of the heroes who stood up against segregation and Jim Crow laws in 1950s Alabama. Full of eyewitness reports, iconic photographs from the era, and crucial primary sources, this work brings history to life for modern readers.
This engaging look at one of the best-known events of the American Civil Rights Movement feels immediate and relevant, reminding readers that the Boycott is not distant history, but one step in a fight for equality that continues today.
Freedman focuses not only on well-known figures like Claudette Colvin, Rosa Parks, and Martin Luther King Jr., but on the numerous people who contributed by organizing carpools, joining protests, supporting legal defense efforts, and more. He showcases an often-overlooked side of activism and protest-- the importance of cooperation and engagement, and the ways in which ordinary people can stand up for their beliefs and bring about meaningful change in the world around them.
Freedom Walkers has long been a library and classroom staple, but as interest in the history of protest and the Civil Rights Movement grows, it's a perfect introduction for anyone looking to learn more about the past-- and an inspiration to take action and shape the future.
Recipient of an Orbis Pictus Honor, the Flora Stieglitz Straus Award, and the Jane Addams Peace Association Honor Book Award, Freedom Walkers received five starred reviews. A map, source notes, full bibliography, and other backmatter is included.