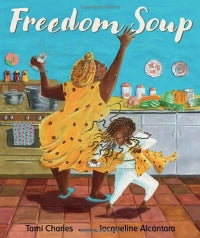 Freedom Soup
Tami Charles, illustrator Jacqueline Alcántara 
Belle, about eight years old, tells the story of her grandmother teaching her to make freedom soup for New Year's. In the process, she learns about the 1803 Haitian Revolution from France, which the soup honors. Beautiful illustrations complement a story that celebrates community and cultural traditions. And the soup recipe is included!
Hardcover, 9x11, 32pp, 2019, ages 5-9.