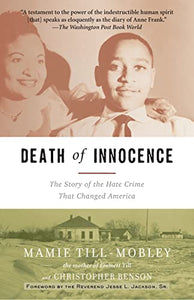 The mother of Emmett Till recounts the story of her life, her son's tragic death, and the dawn of the civil rights movement—with a foreword by the Reverend Jesse L. Jackson, Sr.


In August 1955, a fourteen-year-old African American, Emmett Till, was visiting family in Mississippi when he was kidnapped from his bed in the middle of the night by two white men and brutally murdered. His crime: allegedly whistling at a white woman in a convenience store. The killers were eventually acquitted.

What followed altered the course of this country's history—and it was all set in motion by the sheer will, determination, and courage of Mamie Till-Mobley, whose actions galvanized the civil rights movement, leaving an indelible mark on our racial consciousness.
Death of Innocence
is an essential document in the annals of American civil rights history, and a painful yet beautiful account of a mother's ability to transform tragedy into boundless courage and hope.