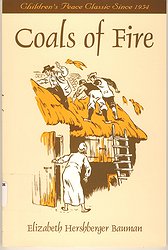 COALS OF FIRE by Elizabeth Hersbberger Bauman

Children's Peace Classic Since 1954
How can one live peaceably with such people?
Soldiers with rifles, demanding money.
Officials punishing you for not joining the army.
Young men ripping the roof off your cottage.
A mob trying to hang you for teaching peace.
A gang killing your family and burning your cabin.
       Here are seventeen true stories about returning love for hate, good for evil. They come from various times and countries, to show the universal power of Christians love.
       High courage is needed to live out a response to God's love, to be kind to evildoers rather than to hurt them. Sometimes doing good makes friends out of enemies. Other times. peacemaking suffer and die. Yet they are blessed in knowing that they truly are children of God.
       Reviewers describe these stories as classic, powerful, moving, well told, good for family discussions, excellent for children's sermons, needed in every home and church library.