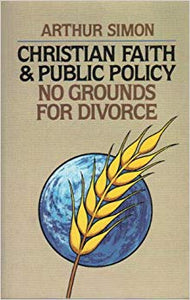 CHRISTIAN FAITH & PUBLIC POLICY - NO GROUNDS FOR DIVORCE by Arthur Simon

As Executive Director of Bread for the World, Arthur Simon knows firsthand how much social good organizations such as his can do. In this book Simon points out the inseparability of Christians faith and social concern, and he urges Christians to become involved in public policy issues.
Simon acknowledge that public policy issues are often complex and can spawn misguided efforts to help. But, he argues, the biggest mistake of all is to take no risk for others and do nothing.
The separation of church and state, says Simon, is a necessary political principle. But the separation of religion and life is a contradiction of biblical witness, since both the Old and New testaments call believers to show God's love and justice in the world. Using hunger as primary example, Simon shows how Christians can significantly improve the lot of the needy.
Intended for general readers, this clearly written book will be of special interest to socially concerned Christians. Study questions enhance the book's value as a resources for individuals or groups.
ARTHUR SIMON is Executive Director of Bread for the World. His book Bread for the World was originally published in 1975 and revised in 1984.