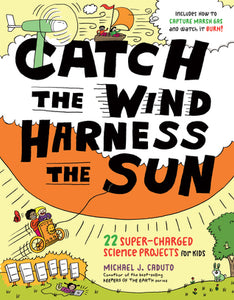 CATCH THE WIND - HARNESS THE SUN by Michael J. Caduto

Includes how to capture marsh gas and watch it burn!
22 Super-charged science projects for kids ages 8-13
POWER UP!
Have fun and help the planet. You can make a big difference and fight global climate change by exploring useful ways to put nature's forces to work. Create a personal solar power source, and build a small windmill and a solar cooker, and set up a pedal power station. You might even be inspired to become a Green Giant, just like the kids profiled inside!