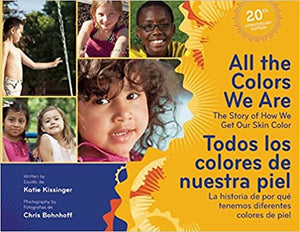 All the Colors We Are/Todos los colores de nuestra piel: The Story of How We Get Our Skin Color/La historia de por qué tenemos diferentes colores de piel
Hardcover – Illustrated, February 11, 2014
The essential resource for 20 years!

Celebrate the essence of one way we are all special and different from one another—our skin color! This bilingual (English/Spanish) book offers children a simple, scientifically accurate explanation about how our skin color is determined by our ancestors, the sun, and melanin. It's also filled with colorful photographs that capture the beautiful variety of skin tones. Reading this book frees children from the myths and stereotypes associated with skin color and helps them build positive identities as they accept, understand, and value our rich and diverse world. Unique activity ideas are included to help you extend the conversation with children.

Katie Kissinger, MA, is an author, activist, educator for social justice, and an early childhood education college instructor. She is founder and a board member of Threads of Justice Collective, an informal group of educators who work together to promote social and cultural justice for all children and families. Katie lives near Portland, Oregon.

Chris Bohnhoff earned a degree in English from Carleton College and then attended the Rocky Mountain School of Photography. Chris takes pictures in his hometown of Minneapolis, Minnesota, and beyond.